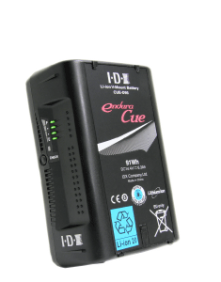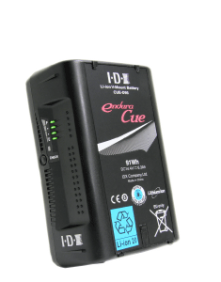 IDX CUE-D95 14.4V 91Wh V-Mount Rechargeable Lithium Ion Battery with D Tap O/P
PRODUCT DESCRIPTION
91Wh Li-ion V-Mount Battery with D-Tap output
CUE-D95 is IDX's most economical Li-ion V-Mount battery in the 90-100Wh battery class. With a capacity of 91Wh and a maximum discharge rate of 6.3A/76W, the CUE-D95 is ideal for small to midsize cameras. The CUE-D95 comes equipped with a built-in D-Tap connector capable of taking a 50W load for powering ancillary accessories. Built to the highest standards of quality and reliability, the CUE-D95 features a new internal pack design, which cradles each cell securely to enhance the reliability and safety of the battery.
Lithium Ion V-Mount battery designed to meet Japans stringent PSE safety regulations for enhanced mechanical and electrical safety.
Manufactured in co-operation with Sanyo, the world's premier supplier of Lithium Ion cells.
91Wh capacity with the ability to handle 6.3A / 76W loads
1 D-Tap DC output (unregulated) connector capable of taking a 50W load within the maximum draw of 76W.
4 Power Indicator LEDs are located on the side for a quick and accurate capacity readout.
Weighing only 1.76 lbs., the CUE-D95 is compact and durable, ideal for small to mid sized cameras and accessories.
Battery circuit protection ensures the CUE-D95 is fully protected against common causes of misuse, guarding against over-charge, over-discharge, and over-current.
The highest grade Lithium Ion cells are used to ensure the CUE-D95 is one of the most reliable batteries on the market.
Unrestricted spare CUE-D95 batteries are approved for carry-on airline baggage under IATA regulations. For further clarification please contact IDX.
The CUE-D95 is fully compatible with all ENDURA V-Mount chargers and
accessories.
Environmentally friendly and recyclable.
Technische Daten:
Battery Capacity 14.4V, 6.3Ah, 91Wh*
Max. Output Voltage 16.8V
Nominal Voltage 14.4V DC
Maximum Discharge Current 6.3A / 76W
End Voltage 12V
Battery ProtectionOver Charge
Over Discharge
Over Current
Ambient Temperature
To charge: 32°F ~ 104°F / 0°C ~ 40°C
To discharge: -4°F ~ 113°F / -20°C ~ 45°C
To store: -32°F ~ 104°F / -35°C ~ 40°C
Dimensions 3.82(W) x 5.75(H) x 2.30(D) inches
97(W) x 146(H) x 58(D) mm
lbs. / 798g approx.
IDX CUE-D95 14.4V 91Wh V-Mount