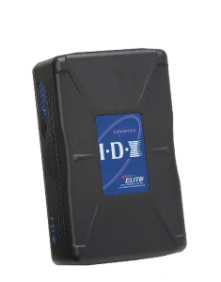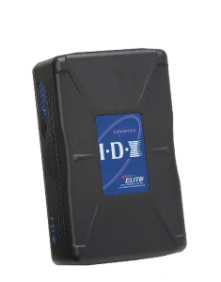 IDX ENDURA ELITE TWIN POWER CARTRIDGE LITHIUM ION BATTERY PACKS
14.8V 136Wh V-Mount Rechargeable Lithium Ion Power Cartridge Battery with Digi-View & i-Trax
(ELITE Battery supplied as Pair of Power Cartridges & Housing)
PRODUCT DESCRIPTION
136Wh Li-ion Power Cartridge V-Mount Battery with Digi-View
The ENDURA ELITE is the ideal battery for today's generation of HD ENG/EFP cameras. At 136Wh capacity, the ENDURA ELITE was created with a focus on the demands of HD power consumption. Two identical cartridges which can reduce the cost of replacement batteries. The unique twin power cartridge design ensures the ENDURA ELITE is fully compliant for air transportation and is the only Li-ion battery over 100Wh that is IATA flight friendly. The ENDURA ELITE supports Digi-View and i-Trax Battery Management System, and is compatible on all IDX ENDURA V-Mount chargers. PC-14 is the replacement power cartridge and BH-2 is the housing for use in ENDURA ELITE batteries. ENDURA ELITE Power Status is uniquely designed with a 10 step remaining power indicator. The remaining power is shown in increments of 10% by solid/flashing combination of the 5 LEDs. This information can be shown in the camera viewfinder via Digi-View and a new 'Mode' LED can indicate preset and warning conditions of the battery to the operator.
Technische Daten:
Battery Capacity 14.8V, 9.2Ah, 136Wh*
Max. Output Voltage 16.8V DC
Nominal Voltage 14.8V DC
End Voltage 12V (factory setting) with an option to deactivate
Battery Protection Built into individual Power Cartridges:
Over charge (reset)
Over discharge (reset)
Over current (reset)
Temperature protection
Ambient Temperature To charge:
32°F ~ 104°F (50°F ~ 86°F recommended)
To discharge:
-4°F ~ 113°F (50°F ~ 104°F recommended)
To store:
-4°F ~ 122°F (one month)
Dimensions 3.94(W) x 6.69(H) x 2.76(D) inches
Weight 2.76lbs approx.
IDX ENDURA-ELITE 14.8V 136Wh V-Mount